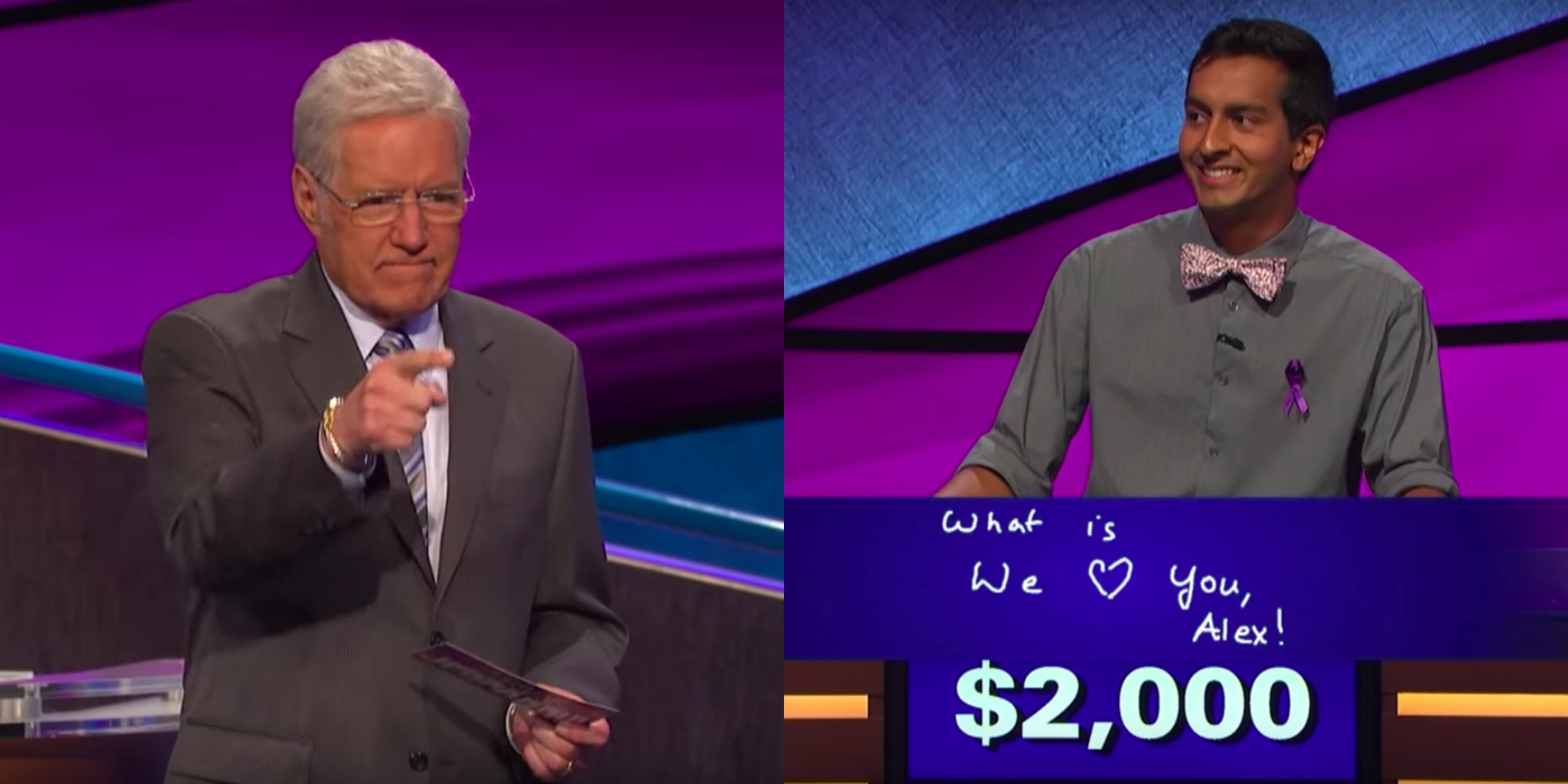 Alex Trebek Gets Emotional After Contestant's Heartfelt Message on Final Jeopardy


Grab the tissues, because one Jeopardy! contestant's act of kindness had the whole world—including host Alex Trebek—in tears on Monday.
During the Final Jeopardy round of the popular game show, contestant Dhruv Gaur passed on the opportunity to answer his question "correctly" by paying tribute to Jeopardy!'s longtime host, who was diagnosed with stage 4 pancreatic cancer in March.
Contestants had to answer: In the title of a groundbreaking 1890 exposé of poverty in New York City slums, these three words follow "How the...."
"Did you come up with the right one? No?" Alex asked Dhruv, as his answer appeared on the screen. "What is we love you, Alex?" Alex read, and then replied, "That's very kind, thank you."
Alex instantly became emotional. "Cost you $1,995. You're left with five bucks," he said while choking back tears. Dhruv gave up nearly all of his $2,000 to honor Alex, who has hosted Jeopardy! for 35 years.
👏👏👏 Couldn't have said it better ourselves, Dhruv! #WeLoveYouAlex
A post shared by Jeopardy! (@jeopardy) on Nov 11, 2019 at 7:00pm PST
After the show, Dhruv opened up about his decision to write the special message on Twitter. "We were all hurting for him so badly," he said. "When Final Jeopardy came up, I could've tried to puzzle it together, but really, just kept thinking about Alex and thought he should know."
"I'm just very grateful I got the opportunity to say what I know everyone was thinking. Sending all the love. #WeLoveYouAlex"
Sorry for west coast spoilers, but I'm really glad I got the opportunity to say to Alex what everybody at the tournament was thinking ... 1/n
Alex underwent chemotherapy for his pancreatic cancer and revealed to Good Morning America in May that he was "doing so well. And my numbers went down to the equivalent of a normal human being who does not have pancreatic cancer. So we were all very optimistic."
However, in September, he had to undergo another round of chemo after his "numbers went sky high." Still, the longtime Jeopardy! host plans to continue hosting until he no longer can. "I will keep doing it as long as my skills do not diminish, and they have started to diminish," Alex, whose contract runs until 2020, told CTV News in early October.
Two days left! ✌️ #TournamentOfChampions
A post shared by Jeopardy! (@jeopardy) on Nov 2, 2019 at 10:35am PDT
Earlier this month, Jeopardy! contestant Avi Gupta donated $10,000 to Knight Cancer Institute in Alex's name. The 18-year-old Columbia University freshman won $100,000 on the show this summer and decided to give a portion of his winnings to support cancer research.
This #PancreaticCancerAwarenessMonth, join us in the fight to #EndCancer. Working with Alex on @Jeopardy was an honor, and I hope the #Jeopardy community will join me in honoring him. #InspiredBy https://t.co/ZOloI3vzwO
Alex, who has become an integral part of Jeopardy!'s history, is certainly feeling the love from the show's community. The whole world is rooting for him, even though he's aware of his fate.
"The thought of the pancreatic cancer does not frighten me. I'm 79 years old. So, hey, I've lived a good life, a full life, and I'm nearing the end of that life. I know that," he told CTV News. But he'll continue to host the show for as long as he's able to.
"As long as I can walk out and greet the audience and the contestants and run the game, I'm happy," he said to GMA.
From: Prevention US
Source:
Alex Trebek Gets Emotional After Contestant's Heartfelt Message on Final Jeopardy
This has been sourced from a third party syndicated feed through internet. We are not responsibility or liability for its dependability, trustworthiness, reliability and data of the text. We reserves the sole right to alter, delete or remove (without notice) the content in its absolute discretion for any reason whatsoever.