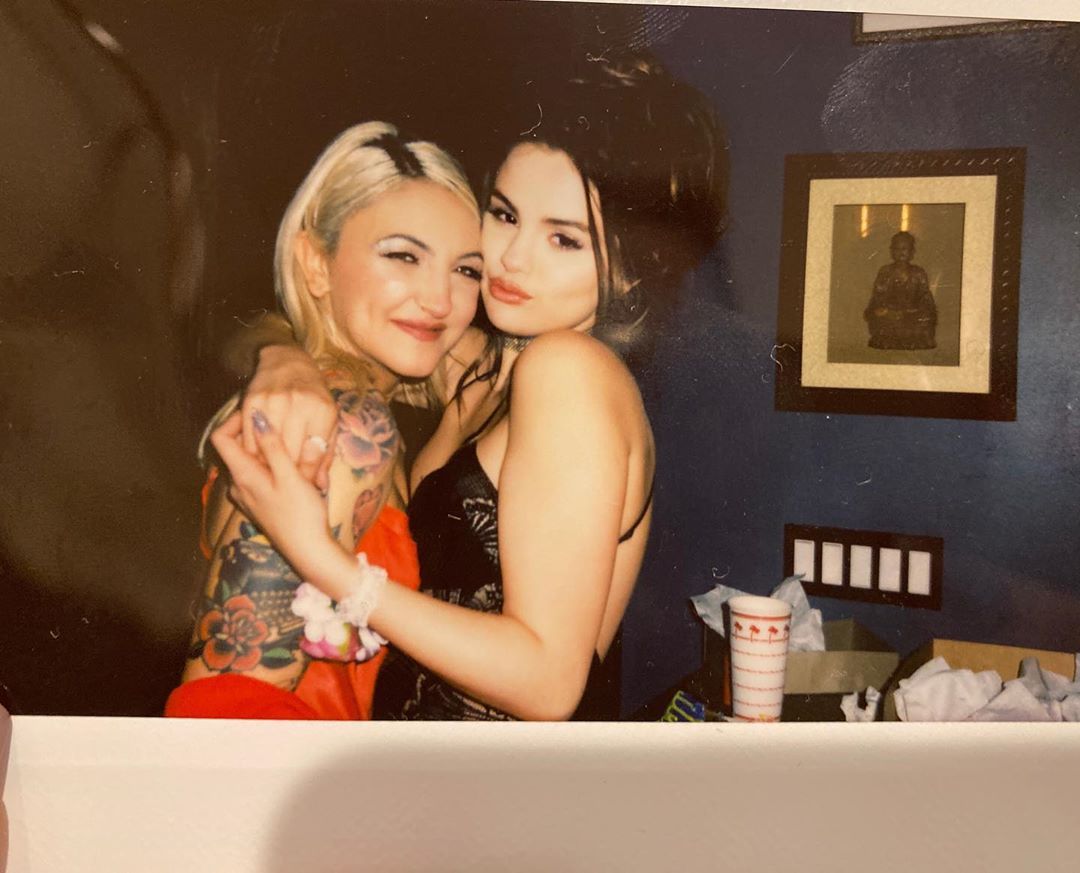 Everything You Need to Know About Selena Gomez and Julia Michaels' Friendship and Matching Tattoos


Selena Gomez is one-eighteenth of Taylor Swift's infamous girl squad, but aside from Taylor, she has a few other really close friends too! Like Julia Michaels, who just got a matching tattoo with Sel and sealed it with a kiss. Before we get into all of that, though, here's everything you need to know about their super-close friendship.
It's not exactly clear how Selena and Julia met or how long they've been friends, but they're both musicians who write songs together, so it's possible they met in the studio or through their record labels. Most recently, Julia is credited as a writer on Selena's "Look at Her Now" and "Lose You to Love Me" singles. When the latter came out, Julia wrote, "Constantly grateful I get to write with people that have changed my life multiple times."
Speaking of working together, earlier this year, the BFFs released a duet called "Anxiety," and they got real about living with it and depression. In it, they sing about how their friends don't know what it's like to struggle with their mental health and how it keeps them up at night and makes them want to sit out of social activities. Just this week, Selena and Julia performed the song at The Fonda Theatre in Hollywood. Julia posted about it on Instagram and wrote, "Thank you @selenagomez for the most epic headline show I've ever played. I love you beyond words and I'm so happy we finally got to sing our baby together :)"
After the performance, they shared a kiss, which Selena posted on her Instagram Stories.
Julia just turned 26 today, and to celebrate, she threw a huge prom-themed birthday party. Like the good friend that she is, Selena was there and described Julia as "my love, my heart and my soul."
My love, my heart and my soul @juliamichaels 🖤
A post shared by Selena Gomez (@selenagomez) on Nov 11, 2019 at 7:21pm PST
If you need any more proof that they're going to be friends forever, take a look at the matching wrist tattoos they got from artist Brad Reis.
On her IG Stories, Selena shared pictures from their tattoo session and a picture of them holding hands and wrote,"It's tatted..my arrow points to you forever."
That's pretty much all you need to know about Julia and Selena, and if anything major happens between them, this trivia trove will be updated.
Source:
Everything You Need to Know About Selena Gomez and Julia Michaels' Friendship and Matching Tattoos
This has been sourced from a third party syndicated feed through internet. We are not responsibility or liability for its dependability, trustworthiness, reliability and data of the text. We reserves the sole right to alter, delete or remove (without notice) the content in its absolute discretion for any reason whatsoever.